How You Can Help
Joy of Art
Surrounded by great architectural design with wide open space and natural sunlight as well as healing art pieces, we aim to deliver an immediate sense of relief and tranquility to anyone coming through the door. Art is an essential element at Maggie's Centre, which numerous studies have proven that appreciating art can help relieve stress, boost our immune system and speed up recovery. Integrated with our programmes of support, art becomes a powerful tool to enhance users' physical and emotional wellbeing, and uplift users' fighting spirit at a time of desperation.
We are very thankful to the support and coordination of
Mr. Johnson Chang
, Director of
Hanart TZ Gallery
, which allows us to display a collection of serene yet powerful artworks by renowned artists
Mr. Luis CHAN
,
Mr. CHU Hing Wah
, Mr. LAM Tung Pang and
Mr. LEUNG Kui Ting
. Every piece of the artworks has it's own story and together they create a soothing effect which helps our users to calm their mind and sweep away anxiety.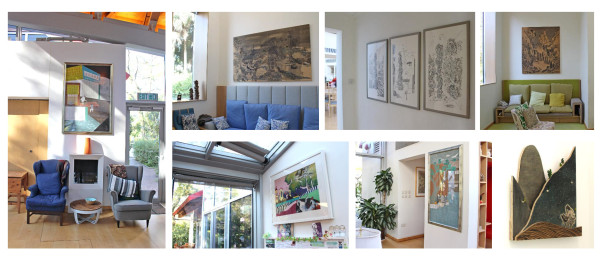 Looking forward, we hope to solicit a wider support from the community like yours in helping Maggie's Centre to build up our own collection of impactful artworks to create a homely yet therapeutic environment for our users and empower them in all ways we can. Please refer to our
"Joy of Art"
leaflet for more details.