People's Comments
When I was ill, I felt helpless and lonely. I am grateful to have someone to talk to, so thankful for your care and support.
Kwan
Your counseling has led me to more resourceful information, enabling me and my family the courage and confidence to face the illness.
Mrs Leung (Relative)
I am very thankful for Maggie's Centre. Cancer patients can now rise from the pain, no longer feeling weak, gaining hope and confidence. We are able to cast away the feeling of helplessness, recharging ourselves with warmth and passion!
Siu Fong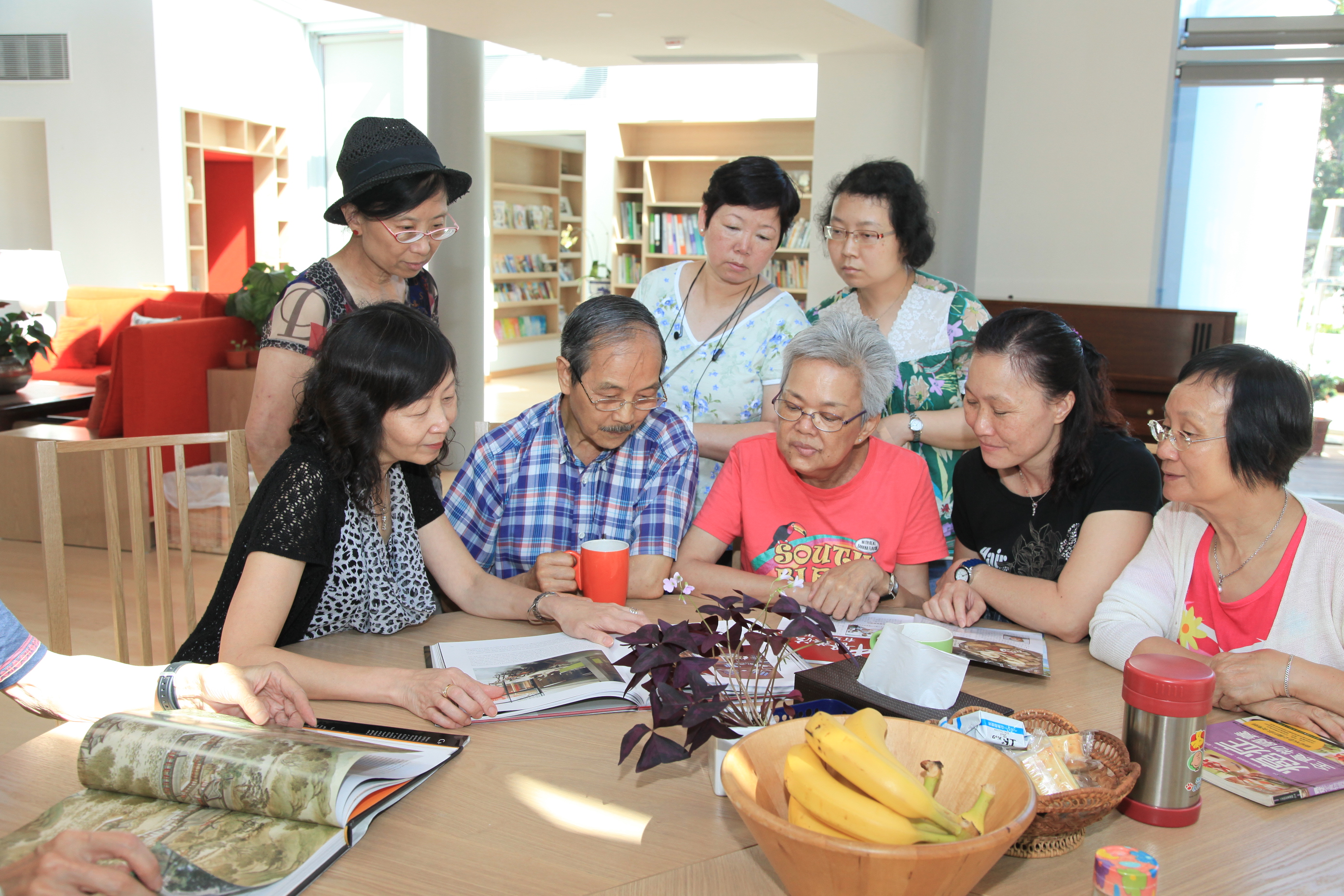 At Maggie's, I learnt to let go, and be brave. Everyone at Maggie's, whether instructors or staff members, is so patient and full of kindness. When we all first came to Maggie's, we were all sad, anxious and concerned, but later, we would arrive and leave with joy and delight. Thank you to the volunteer instructors who make the effort to come all the way to the Centre, offering helpful and beneficial programmes. I am also grateful to all Centre staff -- their love, patience, and willingness to listen, make me feel like having a second home. Words don't do it justice, many, many thanks. Wish you all good health!
Yim Ling
Cancer treatment and recovery is a long journey, and it stresses our body and soul.
Through the professional advice and supporting groups facilitated by Maggie's Cancer Caring Centre, we can build up our physical and mental energy and have better strength to complete the journey.
Stephen
---
Being at Maggie's is like being at home. Even at home, I think about coming to Maggie's, to see other fellow patients, or chat with Maggie's staff. We can also feel free to enjoy ourselves at the Centre, such as cooking a favourite recipe to share with everybody.
May & Lisa
---
You can cry, but you cannot complain.
You can be sad, but you cannot give up.
Because tomorrow we live another day.
Full of hope… we brave onwards for more wonderful, fulfilling days.
Kit Leung
---
Maggie's is like a home, a comfortable and free environment where I can be completely at ease. The programmes offer help both on health and psychology, and meeting other patients and sharing experience is also tremendous support. Thank you, Maggie's Centre, and the professional team.
Daisy
The chemotherapy we receive as cancer patients at hospitals and Oncologists' practices is a necessary process we go through for several months, yet it feels very matter-of-fact and clinical. That's why Maggie's Centre is so refreshing in that the Centre provides emotional and psychosocial support, relaxation and stress management to help us get through those harsh, clinical treatments. It most definitely helps in a soothing, color themed setting with lots of open space.
As a Centre user, I am most impressed by the community feel both the staff and other Centre users have created. The counselling sessions with Helen provided encouragement and empowerment to manage the stress related to my treatments; and the meditation and Zentangle classes provided me with tools on how to manage my emotions and well-being. Cherie and Jane both create a strong rapport with cancer patients and their family members who came through those doors. Helen, as Centre Head, not only did an excellent job in managing the Centre, but also takes time to get involved in the programmes and helps bring out the key messages in each session.
For all the reasons I mentioned above, I keep returning to the Maggie's Centre even though it is a relatively long drive for me. I always feel energised again to deal with the challenges ahead when I leave the Centre. This is why I think Maggie's Centre is so successful. Keep up the good work! I strongly encourage other cancer patients and family members to visit the Centre as there is so much that's offered in terms of nutrition, health, support and general well-being.
Caryn Lee
Cancer is frightening, isn't it? At a blink of an eye, it can take away everything, even the most precious life.
When I was first diagnosed with cancer, I was very depressed. Even with family support, I still felt lonely and helpless. Only I understood the pain while going through treatment, and for a long time, I could not ease the suppressed emotions and fear inside.
Fortunately, I became part of Maggie's, by chance. I feel at home there. Apart from meeting many friendly patients, I also found much information on health, all slowly giving me strength and confidence. Battling with cancer sounds like a challenge that only I can face alone, but I found the strength after discovering this big family. I am not alone after all. Cancer has made me realize that people with illness are not always unhappy, and healthy people may not necessarily be happy. And I have also become happier than before, living life more positively.
I have gained so much. I even feel it is God's gift that I have cancer, is that strange? It is all due to Maggie's support in many ways, that holds a beacon of light for my journey ahead, giving me confidence to forge forward.
Lastly, I would like to thank Mrs Lui and many others in the staff team, for their care and support.
Maggie's, you light up my life!
Yee
---
Life is wonderful. Everything and everyone hopes and strives!
When I was diagnosed with lung cancer last year, I was devastated. Instantly, my life turned to darkness, like the end of the world. After experiencing grueling treatment, when I was constantly filled with fear, I discovered Maggie's. Just as people say, "Every cloud has a silver lining", in the nick of time – it seems that there is hope for me!
The kindness and comfort at Maggie's is just like being in a peaceful home, encouraging a surge of appreciation for life, inspiring the courage to face cancer.
We benefit so much from the weekly group meetings, sharing individual experiences, expert advice from medical professionals, including traditional Chinese medicine.
Staff at Maggie's are so supportive and encouraging, bringing us hope, leading us out of distress. They are so full of kindness!
Lui Pak
Maggie's offers diverse programmes, activities and seminars, lighting up the spark of life, filling it with passion and vibrancy.
It is like a shelter to escape from distress, frustration and fear of death.
Maggie's is a place in the warmth of the sun, filling the air with laughter and dreaming, an unforgettable memory for the cancer patients.
To a certain extent, Maggie's is a paradise on earth which inspires me a fervent heart to crave for life.
Henry
---
Every time I step into Maggie's Centre, I feel the friendly, cozy atmosphere. The environment is comfortable, the staff particularly caring. I can find help whenever I have any questions or any emotional distress. When I was on sick leave, I attended many of the programmes, which benefitted me in many ways. Now back at work, I still visit the Centre. Maggie's Centre is an important pillar to my recovery. Thank you to all the staff and volunteers for their hard work and dedications.
Breeze
---
When my sister was diagnosed with cancer, Tuen Mun Hospital suggested we visit Maggie's Centre.
The first time at Maggie's, the staff very kindly introduced all its programmes and activities. Despite the small area, the environment is neat, simply decorated, warm and comfortable.
I've attended various programmes at the Centre, including Traditional Chinese Medicine, nutrition, yoga, qi gong, as well as beading, all very rewarding. Thank you to all the instructors for their patience and guidance. I've even practiced at home, and can feel myself slowly getting stronger.
May Maggie's continue to grow, offering support to even more patients!
Lam Yuk Hing
---
I enjoy the Centre environment very much, this feeling of being at home. It feels like coming home every time, I feel somehow peaceful and at ease, allowing me the courage to take off my mask. You know, since lung cancer, the mask has become my only protection!
Thank you to Mrs Lui and many others in the staff team, who have offered me so much care and support all this time.
Hing Ling
Maggie's aims to set up a quiet and comfortable environment for cancer sufferers to have a place for them to build up cancer care, with expert counsellors running various workshops throughout the week. So far I've joined most of them, and enjoyed being with them, sharing the outlook on healthy nutrition, attending regular exercises and relaxation therapies. The centre also offers a friendly kitchen for every visitor to make their own cup of tea with biscuits and fruits. They are so friendly and ever so helpful that reminds me of meeting your bible study brothers and sisters, equally so overwhelming. I shall treasure this moment of rehabilitation and take things easy and always be optimistic. I look forward to a new page and what's more, be more determined in the days ahead!
Raymond Hung