Our Story
History of Maggie's UK
1996
November
The first Maggie's Centre, designed by Richard Murphy, at the Western General Hospital in Edinburgh opens.
1997
June
Maggie's pamphlet, A View from the Front Line, is edited by Marcia Blakenham and the first of several editions is published. This booklet becomes essential in defining the philosophy and approach of the centres.
1998
February
Caroline Courtauld, a good friend of Maggie and Charles, is appointed as a Director. Having helped Maggie set up the Bradbury Hospice, she goes on to work with Clara Weatherall to establish Maggie's Hong Kong, a building to be designed by Frank Gehry.
Her Majesty Queen Elizabeth visits Maggie's Edinburgh.
2002
October
The second Maggie's Centre is opened at the Western Infirmary in Glasgow. David Page from architects Page and Park, converted the red brick gatehouse at the Beatson Oncology Centre at the Western Infirmary to create the centre. Forming part of the Kelvingrove complex, the conversion maintains the original façade and as much of the interior as possible, creating a welcoming and contemporary house that adapts to the needs of people who visit it. Most rooms look out onto the gardens, landscaped by Charles Jencks.
2003
September
Maggie's Dundee, designed by Frank Gehry, opens at Ninewells Hospital in Dundee, the third purpose-built Maggie's Centre to open in the UK. Maggie's Dundee is the UK's first building by the internationally acclaimed architect Frank Gehry. As a good friend of Maggie, Gehry went through numerous revisions before arriving at the final remarkable design with its signature curving walls and an undulating roof. The Dundee building wins the Royal Fine Art Commission Award for 2004 in association with British Sky Broadcasting.
2004
January
The Aberneathy Cancer Support Centre in Oxford becomes part of Maggie's, marking the beginning of Maggie's interim services in Oxford.
2005
June
The fourth Maggie's Centre, Maggie's Highlands based at Raigmore Hospital in Inverness opens to the public. Maggie's Highlands is designed by Page and Park. Charles Jencks designs the mounds and the landscape contract is overseen by Gross Max. Building and landform are conceived together as cell forms undergoing mitosis, vesica-shapes in shades of green. The unique structure won the RICS Scotland Community Benefit Award and the Andrew Doolan Best Building in Scotland Award.
2005
November
Keswick Foundation initiated to establish a Maggie's Centre in Hong Kong and gained the consent of Maggie's UK. At the invitation of the Keswick Foundation, Maggie's Chief Executive and Chairman visit Hong Kong to discuss the development of a Maggie's Centre in the New Territories, a building that Frank Gehry will design, helped by Maggie's daughter Lily Jencks. In the same month, Peter Cummings, Chief Executive of Halifax Bank of Scotland Corporate, is appointed a Director and, as part of the London Board, starts to raise funds for Maggie's London at the Charing Cross Hospital in Hammersmith. He continues to be a major benefactor of Maggie's. Jamie Ritblat, Chief Executive of property company Delancy, is appointed Director in November. In addition to supporting Ali Afshar on the property committee, Ritblat's key role is to support of the Joy of Living Campaign, which aims to raise £15 million to build new centres across England, Scotland and Wales.
2006
November
Maggie's Fife, designed by Zaha Hadid, opens at Victoria Hospital in Kirkcaldy. Maggie's Fife was designed by Zaha Hadid for her first UK-based building, Zaha creates a sculptural, sparkling black exterior with sharp angles contrasting with a light-filled interior of welcoming curves. Zaha Hadid said of her design: "It's a great honour to create a building that will enhance the experience of people visiting the Maggie's Centre in Fife. I knew Maggie and we shared an understanding of how significantly environments can help enhance personal wellbeing. I feel confident that Maggie would be heartened to see how her vision has come to fruition." Gordon and Sarah Brown attend the opening. Sarah Brown's enthusiasm for Maggie's leads her to become a Patron of the charity.
2007
May
Interim services in temporary accommodation open in Swansea, South West Wales. Interim services are an important part of the process of establishing a Maggie's Centre – where possible Maggie's opens an interim service in advance of a purpose-built centre to provide its programme of support. It is also an extremely useful way to establish a presence in the hospital and local fundraising community.
2008
April
Maggie's sixth centre in Scotland, an interim service at Wishaw General Hospital in Lanarkshire, opens in temporary accommodation.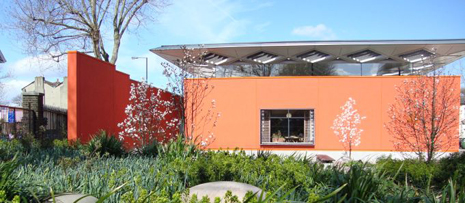 The first Maggie's Centre opens in England at Charing Cross Hospital in London. Nigella Lawson and Sarah Brown attend the opening, which is met with huge media interest. Designed by Richard Rogers and Ivan Harbour of Rogers Stirk Harbour + Partners, Richard Rogers said that they hoped to create "…Something that is much more than a support centre, more homely, more welcoming, more comfortable, more thought provoking and more uplifting." The centre wins a number of awards, including the prestigious RIBA Stirling Prize for Architecture in September 2009. Landscape designer, Dan Pearson designs the internal courtyard and external landscape for the centre.
2008
December
The temporary Centre in Hong Kong started running in Tuen Mun Hospital.
2010
April
Maggie's announces plans to complete seven more centres in the Cotswolds, Glasgow Gartnavel, South West Wales, Oxford, Nottingham, North East and Lanarkshire by April 2012. The announcement is followed by a symposium on Architecture and Health, where influential figures from architecture and healthcare explore the ways that architecture could have an impact on people with cancer.
2010
June
Maggie's, in conjunction with the Elizabeth Montgomerie Foundation, launches a campaign to bring a Maggie's Centre to Aberdeen, the remaining Scottish city without a centre. The new campaign is called Monty's Maggie's Appeal and is led by golfer Colin Montgomerie, whose mother, Elizabeth, died of lung cancer in 1991.
2010
October
Maggie's Cheltenham, the seventh Maggie's Centre, opens.
2011
October
On 3 October 2011 Maggie's opens their eighth centre in the UK. Maggie's Glasgow Gartnavel is one of the three new Maggie's Centres set to open before the end of the year, as part of a dramatic expansion to improve the landscape of cancer care and support across the UK.
2011
November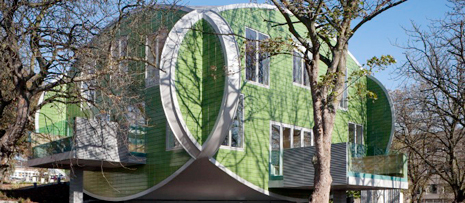 The ninth centre in the UK, Maggie's Nottingham, in Nottingham City Hospital opens in November.
2011
December
Maggie's opens the tenth centre supporting people affected by cancer in South West Wales. Maggie's is delighted to open its first purpose built centre in Wales and it replaces the interim service on the site of Singleton Hospital in Swansea.
2013
March
Maggie's Hong Kong, designed by Frank Gehry with landscaping by Lily Jencks, opens.
2013
May
Maggie's Newcastle, designed by Ted Cullinan, opens at the Freeman Hospital.